Vital Signs, May 28, 2020. Lauren Halsey, Stephen Himmelberg, Sumaiya Mubarack, and Micayla Jones are four of 25 class members in the 2020-21 North Carolina Albert Schweitzer Fellowship (NCASF). Students will spend the next year learning to effectively address the social factors that impact health, and developing lifelong leadership skills, following the example set by famed physician-humanitarian Albert Schweitzer, for whom their Fellowship is named.
"This is a passionate and dedicated group of students who are seeking to improve health care and access to care," said Barbara Heffner, Director of the NC Albert Schweitzer Fellowship. "During these extraordinary times of the pandemic, it is essential that we focus on giving the Fellows the skills and ingenuity needed to meet the changing landscape of health needs of vulnerable communities. I am impressed with the way they are working with their academic and community site mentors adapting their projects in light of current social distancing guidelines."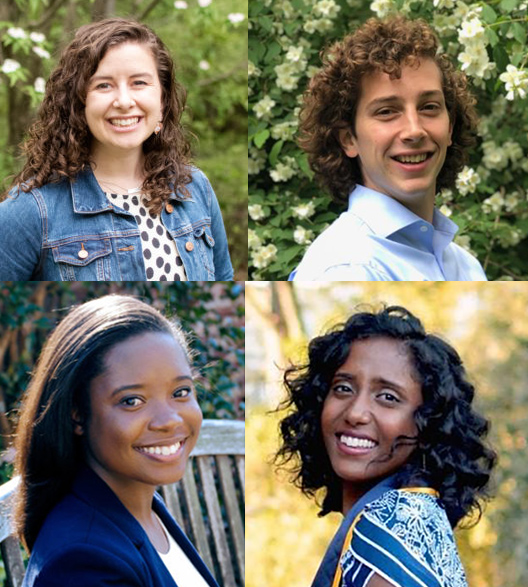 Schweitzer Fellows develop and implement service projects that address the root causes of health disparities in under-resourced communities, while also fulfilling their academic responsibilities. Each project is implemented in collaboration with a community-based health and/or social service organization. The NC Schweitzer Fellowship's new class of Fellows will lead a multitude of service initiatives including care for the homeless, low income new moms, those who are food insecure, cancer patients, people struggling with chronic health conditions, and more.
Schweitzer Fellowships have an intensive leadership component so Fellows can inspire others to improve the health of those who experience barriers to care. Fellows work under the close guidance of community and academic mentors during their fellowship year.
Fellow Lauren Halsey is helping children and their families eat healthier by increasing access to fruits and vegetables and providing hands on nutrition education at their community garden at the Frank Porter Graham Elementary School in Chapel Hill.
Stephen Himmelberg, a J. Bradley Wilson Schweitzer Fellow, is connecting patients experiencing homelessness to community housing services before discharge in coordination with UNC Health, IFC Homeless Shelter, the Orange County Partnership to End Homelessness, and the HOME Committee.
Fellow Sumaiya Mubarack is conducting a postpartum home visit program for Medicaid-enrolled mothers in Orange County starting the day after discharge and extending through 8 weeks of life with a focus on breastfeeding support, mental health concerns, and community resource through the UNC Family Medicine Center.
Micayla Jones is teaming with Amanda Swanson, a UNC Adams School of Dentistry student, as J. Bradley Wilson Schweitzer Fellows helping patients with high blood pressure manage their condition by providing education and longitudinal support which will allow them to get the dental treatment they need and improve their long-term health. They will be working within the new Integrated Health Services Clinic within the UNC School of Dentistry Admissions Department.